A Most Unusual Sailboat
---
. . . made from sea shells
---
Walter Kibildzis (1918?-2004), born in the Baltic Sea port of Gdynia, served
as an engineer in the Polish merchant marine. He visited many ports along the
east coast of the United States and developed a deep fondness for Americans.
In 1977, my favorite aunt, Virginia Plummer (1909-2002), traveled to Poland
and, on a whim, took a train to Gdynia -- without bothering to first make hotel
reservations. Having arrived at the train station in Gdynia, Virginia sat on her
suitcase, pondering her next move. Ten minutes later, Walter happened along.
Walter, speaking Polish, asked if Virginia required any assistance. Virginia,
having been born in Poland, responded in Polish that she did, indeed, need a
place to spend the night. When Walter learned that Virginia was American, he
whisked her home to his wife and two daughters, and a friendship was born.
In March of 1985, Virginia once again longed to visit her country of birth --
and took me in tow on an eight-day whirlwind tour that began in Warsaw and
covered several hundred miles through small villages and open countryside,
including several overnight stays with distant relatives, ultimately landing us
in Gdynia where I received an introduction to the legendary Walter Kibildzis.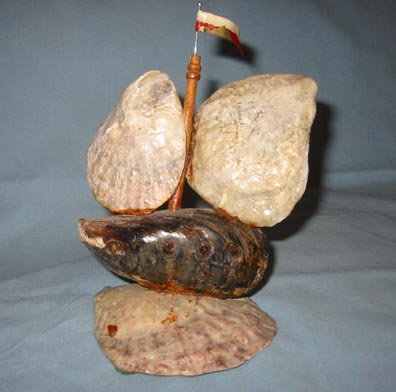 Upon our departure two days later, Walter presented me with this sailboat
which has bounced around the world with me ever since. Walter explained
how he built it himself from seashells he collected on his daily walks along the
shoreline near Gdynia. He hoped the boat would serve as a reminder of that
visit to Gdynia . . . and of my roots in Poland.
Unknown to Walter at the time, my father's mother had been born and raised
in Gdynia, so his little boat carries a lot more symbolism than Walter intended.
---