Leaving Thalwil, looking down at Lake Zürich from the train window.
Lake Zug, with ferry boat routes and ports of call.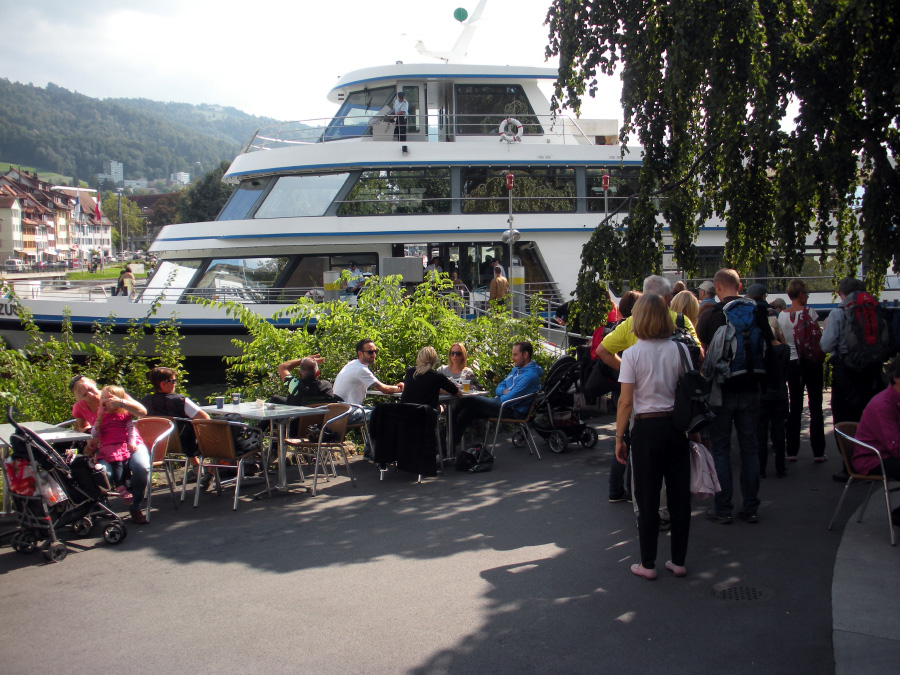 Boarding the ferry in Zug. (That's Irmi at the end of the line.)
Backing away from the dock, beginning a three-hour tour of the lake.
Settling into our seats on the upper deck.
This late in the season, it wasn't crowded at all.
Crossing the lake toward Cham while photographing in the direction of The (Mt.) Rigi.
Certain we would not be needing sun glasses, we had left them at home.
Approaching the village of Cham.
Departing Cham.
Heading toward Buonas, with the gap between Lothenbach and Chiemen directly ahead.
A single solitary sailboat, with Zug in the background.
Skirting around the Risch peninsula, with the village of Arth visible at the far end of the lake.
Approaching the Chiemen peninsula. Immensee is just around the corner to the right.
As the ship swings to starboard, Irmi enjoys the sun in her face.
One of those moments in life when everything falls perfectly into place.
Docking at Immemsee.
Departing Immensee.
Looking back toward Zug, through the Lothenbach-Chiemen gap.
Passing the Walchwil coastline, heading toward Arth.
More of the Walchwil coastline, mostly rolling farmland.
Docking at Arth.
Leaving Walchwil behind.
You can make him hang up the uniform, but you just can't take the green out of this man.
Returning to the Zug ferry dock.
Viewing right from the Zug ferry docks.
(Later, we will walk along the shoreline promenade to and through the "old town.")
Saying goodbye to the ferry.
So long until next time. Ron and Irmi.