Our start point: the village center of tiny Stein, Switzerland.
Migg and Ron a few meters ahead on a narrow trail. The river lies beyond
the bushes on the right; and that's freshly mowed hay in the field to the left.
An idyllic, unspoiled, pure fresh mountain river cascading through open farm country.
Cultivated fields cover the rolling hills. See the bales of hay on the upper field?
The darker areas have been recently fertilized with liquefied cow dung.
Irmi and Elisabeth pausing for a pose on the trail.
An old stone farm bridge, primarily for tractors, but it also enables cows to cross from one field to another.
(The steel pole with superstructure behind the bridge is a chairlift tower used during the winter ski season.)
An old covered wooden bridge. Note the hand built stone foundation.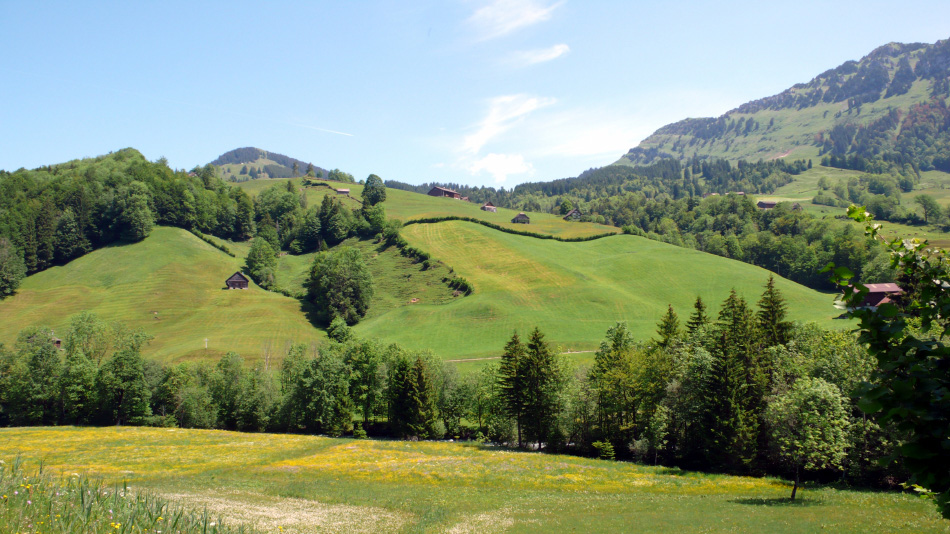 More hay fields among the rolling hills. The small outbuildings provide winter shelter for the farm animals.
Sometimes, you have to forge your own path through the thick, wild grass.
Passing by an old farm house, Irmi is quick to appreciate stacked firewood as an art form.
Family farms, passed on from one generation to the next.
Looking back in the direction we have traveled.
Migg, Elisabeth, and Irmi downing a quick sandwich for lunch.
The trail back across ground we have already covered, as viewed from our lunch bivouac.
The Churfirsten (Chur's Princes) mountain range in the distance. Lake Walen lies beyond.
Migg, contemplating the scenery, patiently waiting for the ladies as they hunt for rocks at river's edge.
Passing a set of rapids with foaming white water.
We encountered several steep stretches, mostly in deep forest, but
the majority of the route looked like this: easy, relatively flat terrain.
Migg and Ron, waving at a passing electric commuter train. Whisper quiet, they can sneak up on you!
Lucky with the weather, we were given a picture-perfect day. (Twenty-four hours later, it was raining again!)
Elisabeth, about to disappear around the bend in the trail ahead.
Arriving at the outskirts of Krummenau . . . and the end of the trail.
Our hike ended at the train station in Krummenau where we all climbed into Irmi's car and
drove up into the surrounding hills for dinner. Here, we (Migg, Irmi and me) are sitting on
the outdoor terrace of the Hotel Landgasthof Sonnenbräu, located in the village of Hemberg.
(Our route ran through the valley in the background, sweeping left around the bend.)
My evening meal (the thumb in the upper right corner proves it), ordered in a rustic
Alpine restaurant and so elegantly presented! Rösti mit Spiegelei und Speck (hashed
browns with eggs over easy and bacon), a simple Swiss delicacy, but oh, so delicious!
(And, yes, I ate the green stuff, too.)
The end of another great hike!