High above Davos. Left to Right: Susanne, Ron and Monique
(As is most often the case, Irmi can be found behind the camera.)
Irmi -- the best-dressed woman above two thousand meters.
Saturday -- minus sixteen degrees Celsius (three degrees Fahrenheit). I have skied on
colder days, but I really can't remember when. Modern Gortex clothing protected well
enough, except for the chin, lips and nose. Naturally, I forgot to bring my balaclava.
Lunchtime on a restaurant terrace, with Ron sporting new sun glasses.
(The old ones, purchased in 1987, snapped in two from the bitter cold.)
A clerk in the sports shop guaranteed that the new glasses would
make me look cool. Who among us can resist such salesmanship?
Another view of Davos, nestled in its own private valley.
December (Christmastime), February (Fasching), and March (school holidays)
are all busy months in the ski resorts; but January is relatively quiet and far less
crowded. Rooms in this idyllic chalet are available and at extremely good rates.
Having carved our way down to the valley floor and unsnapped our skis,
we were walking to a bus stop for a lift back to the hotel, when this old
house caught our attention.. A thick layer of snow on the roof means
what? (Good insulation!) Note the large icicles hanging from the eaves!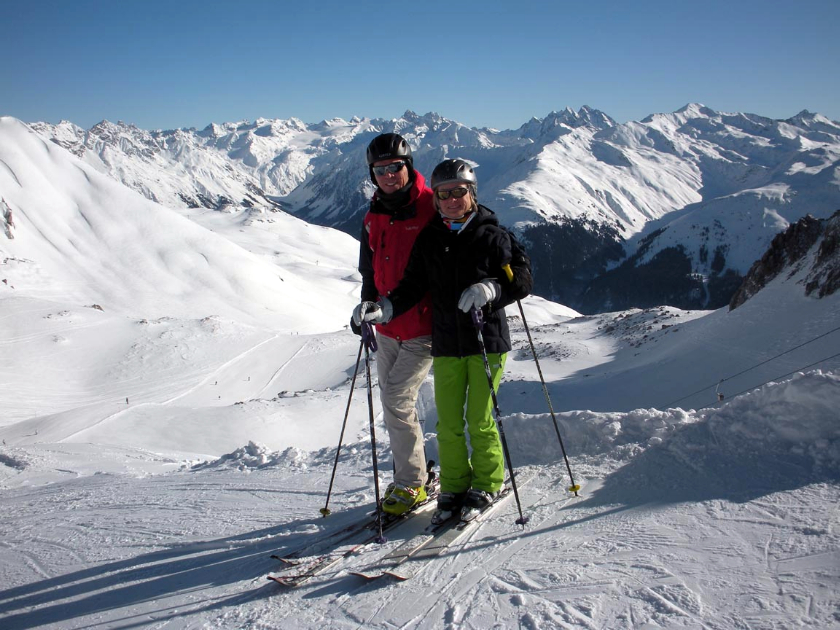 A perfect skiing moment, featuring an endless panorama of snow-capped mountain peaks,
pure fresh air, the company of a beautiful woman, and . . . the latest in stylish crash helmets!
Until next time, folks, auf Wiedersehen