Having parked our car in a public garage in downtown Flims, we walked a short distance down a
footpath to this spot overlooking Lake Cauma (below). The top station for the funicular railway lies
a few meters to the right. (Timm and Martina posing for the obligatory "before" photo.)
After riding the funicular railway down to water level, we have walked
forty or fifty meters to the left and begun our circle around the lake.
Deciding to circling the lake clockwise, we turn left and amble down to a trail along the water's edge.
After several hundred meters, we reach the eastern end of the lake.
A lone swimmer stroking easily through pristine and peaceful waters.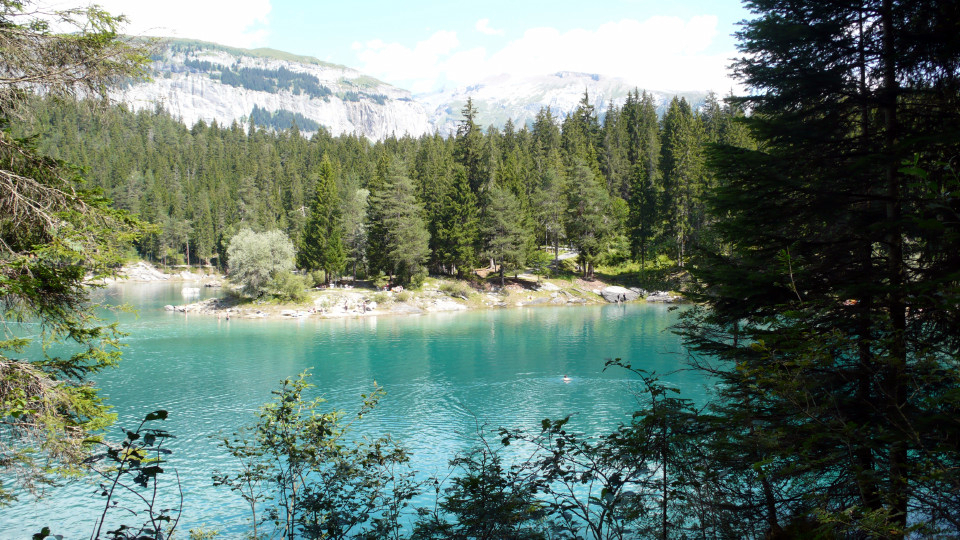 Although there were many swimmers on the lake, finding a quiet corner wasn't difficult.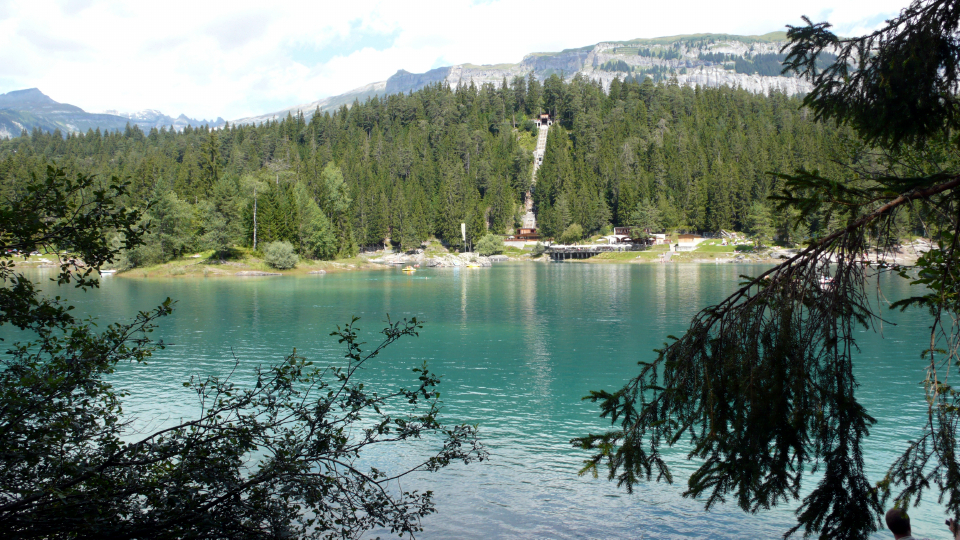 Pausing on the opposite shore, we now have a good view of our start point and
the funicular railway that carried us from an upper pathway down to water level.
Timm, enjoying a break and a granola bar at water's edge.
Dense green forest, clear blue skies, puffy white clouds, and pristine emerald waters. Ah!
Irmi and Martina, cousins born in the same year, separated for decades by politics and
an ugly concrete wall, now reunited, living minutes apart, and reestablishing family ties.
"The Thinker," pondering ways to pilfer one of Irmi's granola bars.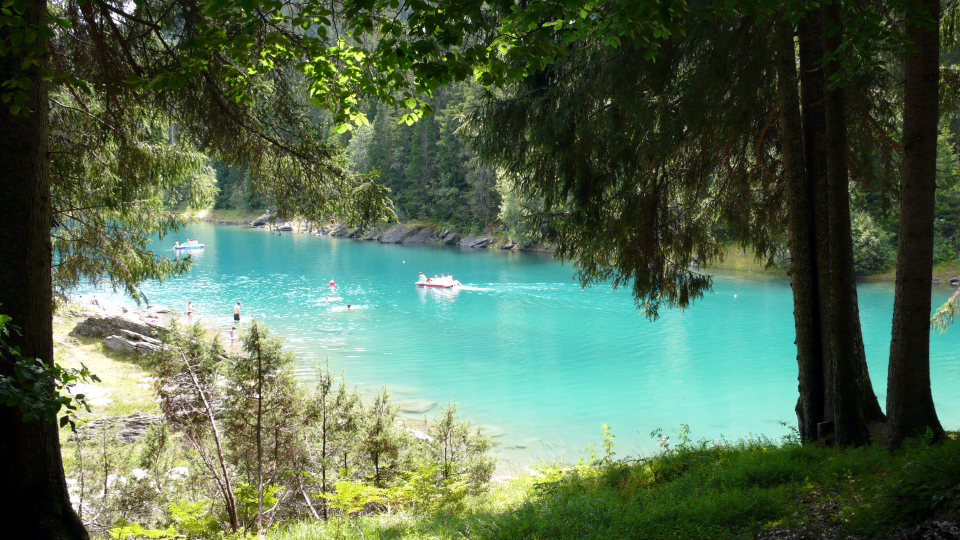 Arriving at the western edge of the lake.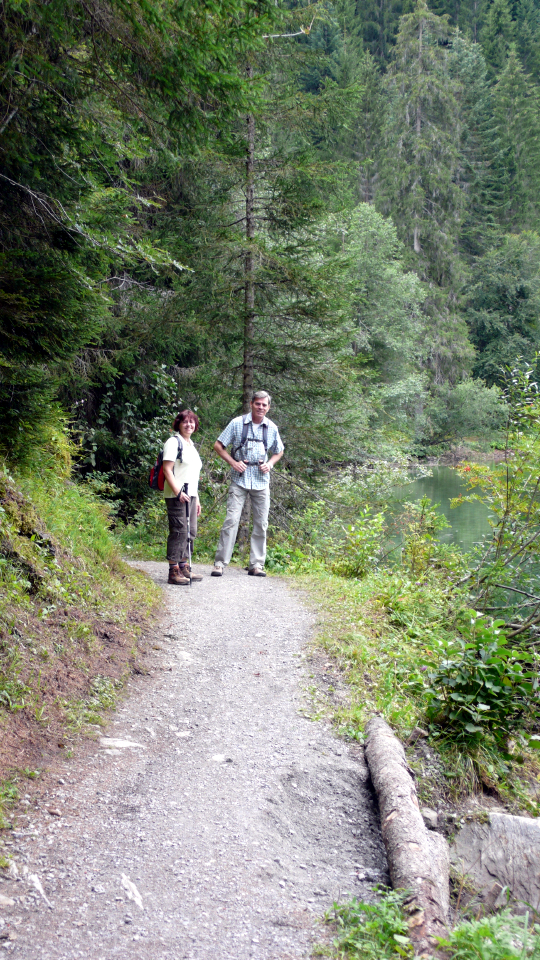 Martina and Ron

leading the way.
Suddenly, we found ourselves walking beneath a self-confidence course set up for the summer.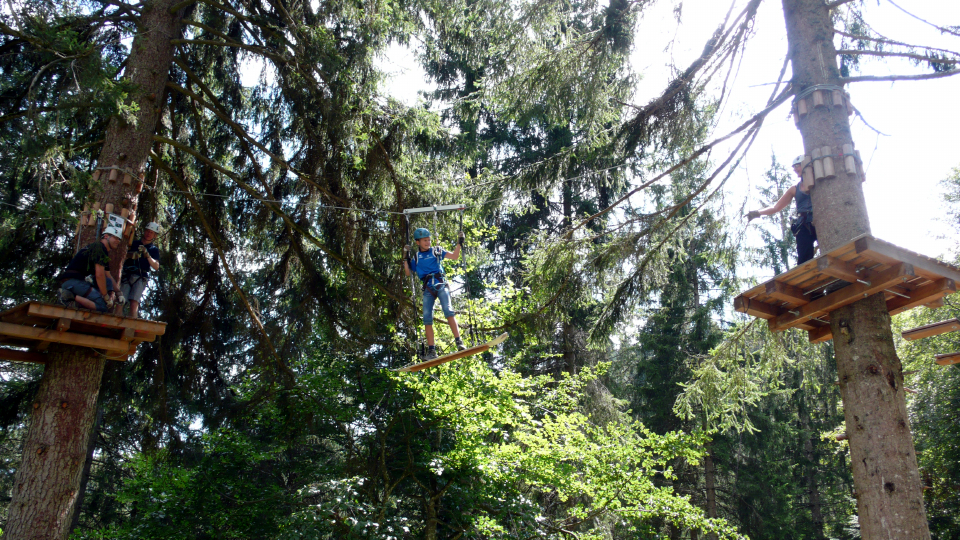 Why, it was so easy, even a child could do it.
Timm, competitive by nature and drawn to dangerous activities, felt compelled to try it, as well.
Having left the lake behind, we now travel back in the general direction of Flims city center.
Ron and Martina leading the way.
On the outskirts of town, we encountered this 1957 tour bus, nicely maintained and still in regular service.
The bus belonged to a tour company based in the city of Chur, located fifteen kilometers away.
Beyond the bus stood a hotel with open-air seating in the rear. We stopped coffee (and cappuccino).
Timm and Martina. Ah, now that hits the spot!
Irmi and Ron, out front of the hotel. We will walk toward the mountain in the rear.
Passing through the center of Flims while returning to our car.
Slowing down to window-shop during the final few hundred meters.
Our car is parked in a public garage just around the bend in the distance.
Another great hike! So long, everybody.