Having parked the car by the side of this narrow road, we start out on relatively flat land.
Elisabeth is in the foreground, with Ron (left) and Migg (right) leading the way behind her.
Pausing before the gate to a large "Festung" -- a long tall stone wall that formed a fortress
against invading armies from the Austrian Empire in the 1400's. (Me, Elisabeth, and Migg)
Uphill, always uphill. (L to R: Ron, Elisabeth, Migg).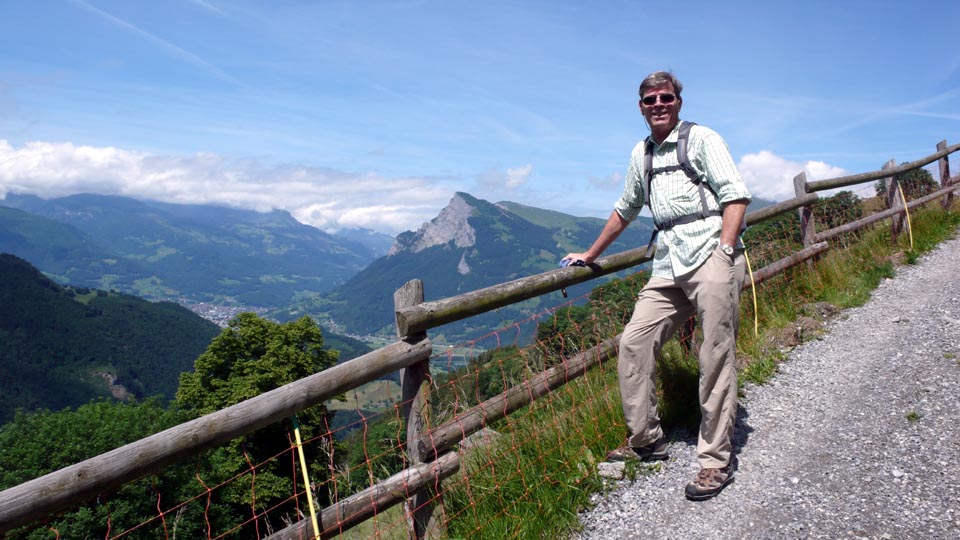 Ron taking a break on the long climb to the top.
City of Maienfeld in the distant valley.
View of surrounding hills from the top. The small sheds house winter food for animals (cows and sheep

).
Irmi and Ron at the "Guschaspitz" (Guscha promontory) -- 1104 meters (3,588 feet).
We wish not to dispel any romantic notions about Heidi and Peter romping through
pristine Alpine meadows, but see those dark spots in the grass? That's sheep dung.
View down into the valley: a Swiss military facility in foreground, city of Maienfeld in background.
Small mountain stream to the side of the trail.
Among the small cluster of buildings comprising Guscha is a single restaurant. Here, on the terrace

, hikers
partake a quick lunch. No tour buses here. Each of these hardy souls made the trek up from the flat lands.
Swinging the camera to the left, the ground beneath the terrace drops away, forming a grand vista.
Ron

and Elisabeth in a small, extremely old "Gaststube," literally a bar but more commonly serving simple
food dishes, as well. Note the brown "Kachel Ofen," a fireplace covered in tile that radiates heat into the
room (opening for the fire is in another room behind the wall), a mainstay of old German and Swiss homes.
Sweating all the way up, I had been dreaming of the easy return trip. Ha! Here we begin the long road
back down . . . which simply put strain on a different set of leg muscles, and I sweat almost as much
on the way down as on the climb up; by the time we reached flat land again, my legs were like rubber.
Ron giving his knees a break on the long walk down.
Passing between the Festung on the left and a more modern structure on the right.
See the plastic drain pipe extending from the Festung? Pretty advanced for the 15th Century!
Elisabeth and Irmi standing on flat land again. The spot to which we had climbed
lies about halfway up the mountain, among the green band of trees to the left.
Turning one-hundred-eighty degrees, this is the road that will take us home.
A short distance later, we stopped for a cool drink. Hidden behind the church and large tree
is a two-story hotel with restaurant where we sat in an outdoor courtyard and gazed up at
the mountain we had just conquered. Well, partly conquered. Okay, one-third conquered.