Map of Switzerland with our route superimposed. Generally, anywhere "left" of Bern is
French-speaking -- still Switzerland, and the people are extremely friendly, but it feels like
a foreign country. Fortunately, Irmi speaks French, so we didn't get lost or go hungry.
Ron, on a promenade in Neuchâtel (noy-sha-tell), on the shoreline of Lake Neuchâtel.
One section of the marina at Neuchâtel.
A small cobblestone square in the "old town" of Neuchâtel.
Side street in Neuchâtel. Note fresco-type painting on the wall. Nearly every building
on that street had similar artwork. The solid wooden double doors typically lead to
private inner courtyards with decorative fountains and multiple apartment entrances.
A local university building with manicured gardens. Irmi made a bee-line for the flowers,
while Ron fell captive to the (obviously female) stone statue guarding the entranceway.
Having arrived in Montreux on the far end of Lake Geneva, we are walking along an
absolutely pristine promenade. The disc-shaped object is a combination dock and
municipal swimming platform -- reminiscent of a 1950's futuristic art deco design.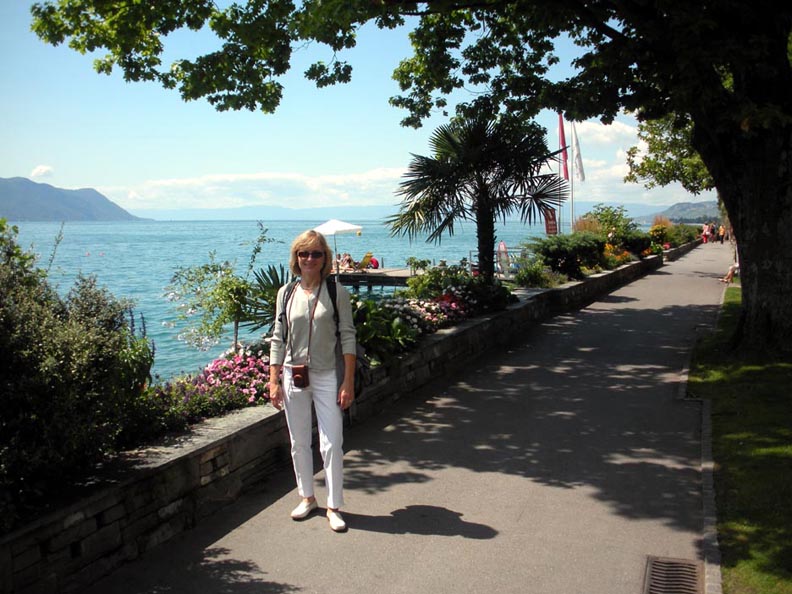 Beautiful, energetic Irmi pausing on the promenade, with Lake Geneva in the background.
Irmi, pivoting to her right, snapped this shot of an incoming side wheel steamer.
Note the French pennant on the bow. The people of this region are proud of their
French heritage; the hills in the background are Swiss territory, but the shoreline
extending to the right from those hills lies within France, a short boat ride away.
Every element incorporated into the shoreline of Montreux was designed with the comfort
of casual strollers in mind: wide walking lanes, ample seating, shade trees, and small food
concessions, etc. Beyond and below the couple sitting on the bench lies another pathway
for sunbathers and swimmers, with water access and chaise lounges provided by the city.
This shot was taken from our seats on the renown "Golden Pass," from Montruex to
Interlaken, a steep and winding mountainous route through spectacular landscapes.
We felt fortunate to get such a good shot through reflecting glass on a moving train.