Entrance to Dunedin Marina, with Clearwater Harbor in background. (L to R: Irmi, Cathy, Zach)
(See the thin, fuzzy line of buildings in the far distance? That's the beach to which we will pedal.)
We crossed the parking lot below, pedaled up a spiraling ramp, and
are now on a pedestrian lane atop the Memorial Causeway Bridge.
(Tarpon Springs lies five miles beyond the condo building at white arrow.)
Turning left from previous shot, view of Clearwater Harbor with beach ahead and mainland behind us.
From mid-point of the Memorial Causeway Bridge, the earthen causeway is directly ahead with Clearwater Beach
in the distance. The Memorial Causeway Bridge replaced a smaller, older draw bridge spanning the Inter-coastal
Waterway (which extends to the left from this shot) built by the U.S. Army Corps of Engineers during World War II.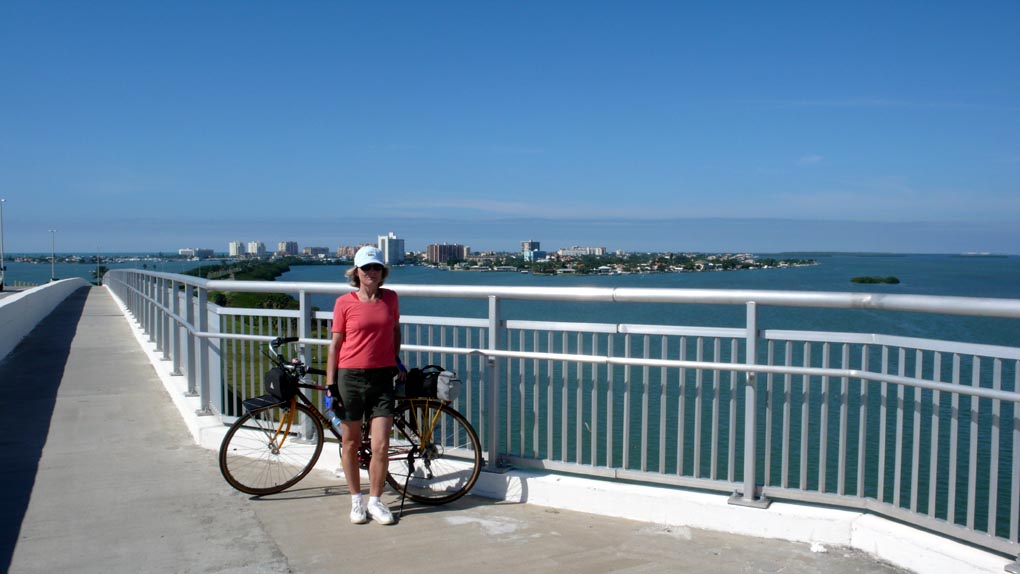 Lovely Irmi, with her trusty Centurion touring bike imported from Germany, preparing to lead us down off the bridge.
Palm Pavilion Beachside Bar and Grill, established 1926 on the sand at Clearwater Beach.
"There's no place like this place anywhere near this place, so this must be THE PLACE."
A stranger dropping in for lunch.
Lunchtime at the Palm Pavilion. (L to R: Cathy, Zach, Ron, Irmi)
Following lunch, we rode into a small rustic neighborhood north of Clearwater Beach. This house, built in the
1930's or 1940's, is quite modest, but its location one block from the water raises its value astronomically.
At the northern end of neighborhood in previous photo, this wooden walkway leads to a nearly secluded beach.
Riding back south through same neighborhood, we encountered this charming beach house.
Having passed back through Clearwater beach and around the infamous traffic circle, we traversed
the causeway, and now Ron leads the way up the Memorial Causeway Bridge back to the mainland.
Two-thirds of the way back up the bridge, Zach, Irmi, and Cathy take a break.
From previous photo, turning 180 degrees to survey our front and ground we have yet to cover.
Ron, pedaling on the spiraling ramp back down to ground level. Memorial Causeway Bridge is in background.
Zach and Ron, pausing under a few precious square feet of shade on the spiraling ramp.
Back at ground level under the bridge, preparing to turn right across a large parking lot and,
hopefully, find a detour around Clearwater again to the shoreline and sidewalk to Dunedin.
Back on the shoreline, with Clearwater Harbor on our left (to the west),
heading north toward Dunedin. Beyond that lies Tarpon Springs and home.