Setting up, marking our territory, building up courage.
Kerstin, modeling her newest sarong thingy.
The official start of every swim on the lake begins with blowing up the air mattress, a team effort.
This special air mattress, over forty years old, belonged to Irmi's family while she was growing up,
and it is still in perfect condition; however, it has five separate air
chambers, requiring tremendous
lung power to fill it up. (I wish my old Army air mattresses had held air as well as this jewel.)
Okay, everybody in the water! (L to R: Ron, Irmi, Martina, Kerstin.)
Naturally, the men were the first ones in the water. (The women have just thrown us in; if
we survive, then the water is safe for them to enter.) Martina is standing left; Kerstin right
.
Timm is the fellow in the water to the left; Ron is farther out, wearing sunglasses, looking cool

.
Eww, Mom! Those fish don't bite, do they? (L to R: Timm, Ron, Irmi, Martina, Kerstin)
Irmi floats like a cork. She can swim forever.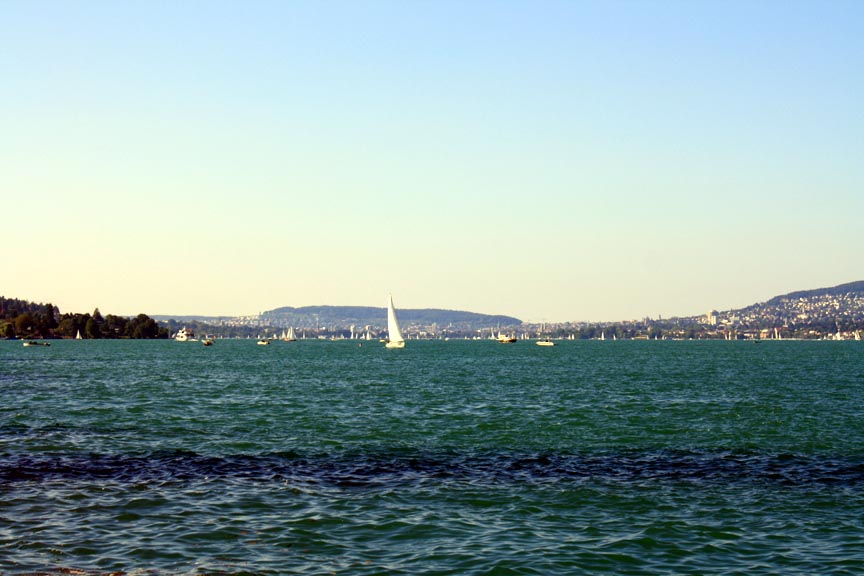 Downtown Zürich is at the center of the photo, at the far end of the lake, about five miles away.
Ron has just wrestled Irmi off the air mattress; the first time he has ever beaten her in a fair fight.
(L to R: René, Kerstin, Irmi, Ron)
Somehow, Irmi has managed to wriggle back onto the air mattress.
Sharing, this is what marriage is all about.
(L to R: Kerstin, René, Irmi, Ron)
The "City of Zürich," a side-wheel paddle steamer that has been in continuous operation on Lake
Zürich since 1909. Every five years or so, citizens launch a charity campaign to collect
enough
money for another engine overhaul and renovation, in order to keep this bit of history on the water.
The "City of Zürich." Still photos simply cannot capture the grace and beauty of this grand old lady.
Ship captains steer newer ferries with the aid of modern "joy sticks," but they stand in
line for the
opportunity to take the helm of this ancient wonder, equally maneuverable with far more character.
Irmi pushing Timm out to sea.
Irmi floating on the air mattress, soaking up the sun, drifting out into the ferry channel.
Someone should tell he

r.
After the swim, sitting on a bench, soaking up the sun.
(L to R: Ron, Timm, René, Kerstin, Martina.)
Kerstin and René, doing what young lovers do.
Martina and Timm, doing what slightly more mature lovers do.
Ron and Irmi contemplating the end of another perfect day on the lake.
Time to hike back up the hill to the house and fire up the grill.
So long for now, everybody!