Hi Everybody! Let's get started.
Doris on the left; Irmi on the right.
Let's take it real easy in the beginning. That sun feels pretty warm.
Take advantage of the shade whenever you can find it.
Doris and Irmi leading the way up a small rise and into a forest.
Doris and Irmi negotiating a narrow sloping trail. Ron seems to be falling farther behind.
Irmi and Doris taking a break halfway to our top point.
Rustic Restaurant on a hillside where we ate lunch out on the terrace.
Leaving the restaurant, we turned right and passed this isolated summer cabin.
How does one purchase a place like this? It must have been in the same family
for generations. See the blue para-glider soaring in the upper right of the photo?
Irmi and Ron, taking a short break. Irmi is always happy in the great outdoors.
Ron is always happy when performing his favorite exercise: sitting on a bench.
Ron, inspecting a fast-moving stream, searching for the safest place to cross.
Irmi, inspecting a fast-moving stream, contemplating a quick swim.
Doris, crossing the bridge of no return; from here on, it's all downhill.
Heading back down to the valley floor now, through rolling green hills.
The old huts store grains for animals and provide shelter during inclement weather.
Civilization ahead, one of the outer-most houses of the village.
Almost back down to the village center now, as a para-glider makes a smooth landing.
(Most higher-elevation ski resorts are Mecca's for para-gliders in spring and summer.)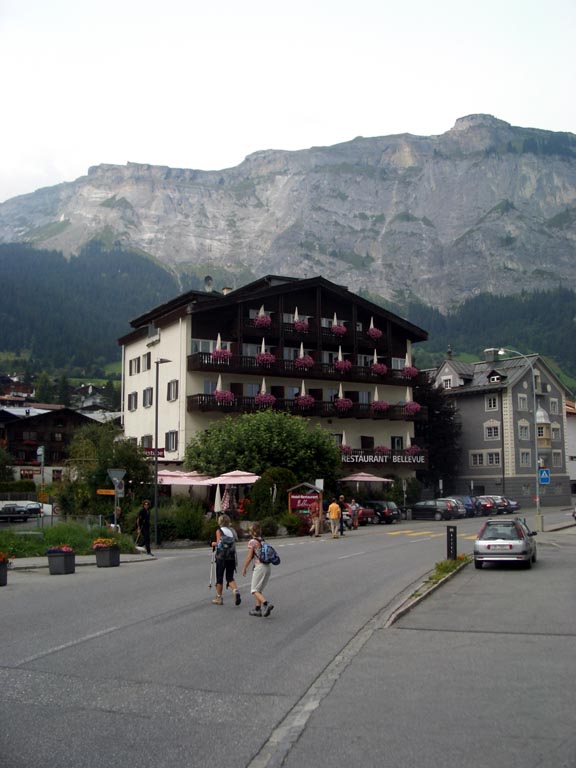 Back down in the Village. We made it! Doris and Irmi cross the
street to a restaurant for coffee and "Nuß Torte" (similar to pecan pie).
That's all for now, folks! See you next time.