On a Monday at half past ten in the morning, Irmi and I boarded a regional express in our small town of Thalwil,
outside of Zurich, and traveled to Chur. At the train station in Chur, we transferred to reserved first class seats
and settled in for the six-hour journey to Zermatt. A steward took our orders for lunch, and the train pulled out.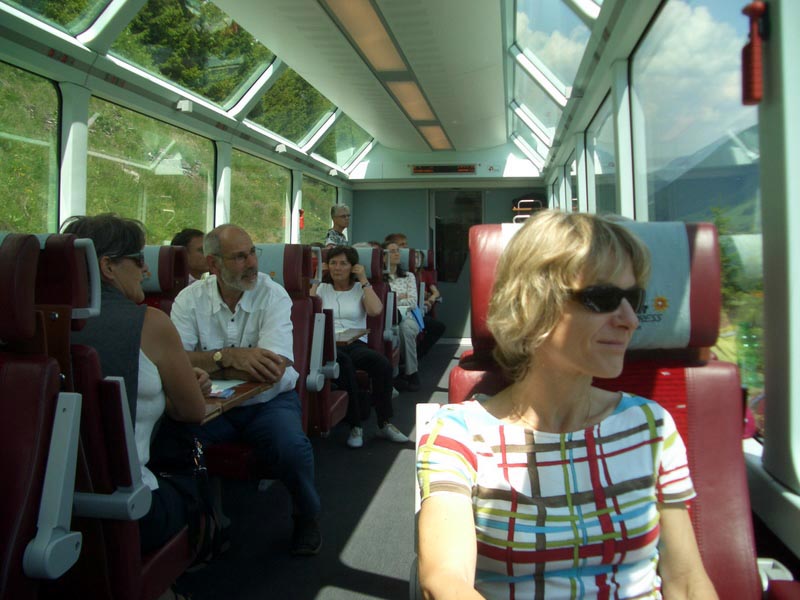 Other trains might have wider and softer seats in first class, but this one was built with one thing in mind:
maximum views in all directions. The food and service, however, more than made up for austere seating.
By today's standards, we did not move at "express" speed; but back in 1930 this undoubtedly the fastest
route through the mountains. Today, the tracks are old and curve continuously, limiting speed almost to a
crawl; and, with a single track along most stretches, the train stops often, pulling onto sidings so oncoming
trains can pass. At first, I thought the locomotive was taking on water; but, duh, it was electric powered.
In the early going, the train followed a wide flat valley floor.
Irmi's reflection in the glass is a nice touch by a superb photographer, don't you agree?
Looking down upon peasants driving automobiles on a winding roadway. At the city of Disentis, we exited the train
for twenty minutes while a yard crew switched engines. From this point onward, the climb increased in grade up to
twelve degrees in places, necessitating a more powerful engine. The new one had a third (cog) wheel in the center
that engaged a matching notched track on the rail bed, providing a better grip. The landscape from Visp to Zermatt
turned from merely beautiful to truly spectacular, with magnificent views back down the valley as the train climbed.
Unfortunately, severe sun glare on the windows ruined every photo we tried to take on that stretch of the journey.
We thoroughly enjoyed our ride on the Glacier Express; but, as it turned out, two days in Zermatt added an
unexpected element of adventure to the trip. In the map above, Zermatt (population 5,000) lies in a secluded
valley 1,620 meters (5,265 feet) above sea level. It is accessible only by rail; gasoline-powered automobiles
are strictly prohibited. Local transportation includes small electric powered taxi's, delivery trucks, and buses.
(The three red arrows on the left side of the map are points on a cog-wheel train route we took the next day).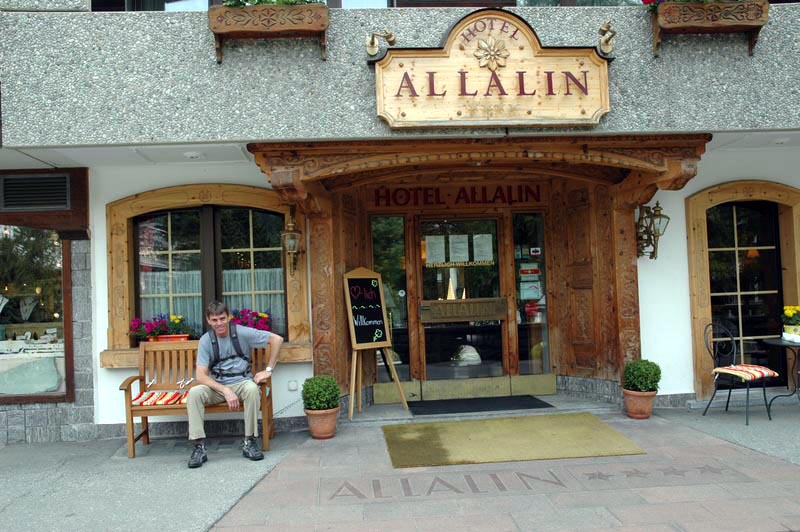 Here we are, settled in our hotel (www.hotel-allalin.ch). That's Ron, after breakfast on Tuesday morning,
ready for our first hike into the surrounding hills. As in many European locations, this hotel looks deceivingly
small, but the friendly service and general helpfulness of the hotel staff would be difficult to beat anywhere.
Ron took this shot shortly after 10:00 a.m. on Tuesday morning, in the center of town, just a few steps from
our hotel entrance. That imposing peak in the background is the (real) Matterhorn (4,478 meters/14,553 feet).
We went shopping for a few hours Tuesday morning, and a sales lady recommended a hike off the beaten path
where few tourists ever venture, and we took her up on it, setting out around 2:00 p.m.. Our destination was the
"Goner Gorge." From the map above one can see that the Goner Summit (Gonergrat in German) is one of several
peaks towering above Zermatt. Even in late June, melting snow trickled into streams wending their way down the
mountain. At the Goner Gorge, we will see one such stream, now a raging torrent, pounding against granite walls
and over huge boulders. From a low-lying meadow above the city, the Matterhorn lies partially shrouded in clouds.
At the edge of town, we encountered this tall train trestle and waterfall. The following day we
would pass over this bridge while riding the Goner Summit Train (part of the Matterhorn Railway).
Naturally, we became lost. The sales lady's instructions seemed simple enough, but we soon found
ourselves climbing a paved road which could not be correct, because, well, water flows downhill, and
the gorge was supposed to be located not far from the edge of town. Then we saw this path and
decided to take a chance. Regardless of where it went, it had to be more interesting than the road.
At first, the woods seemed fascinating, so lush and green that we half-expected a leprechaun to
leap from behind a bush at any moment; but the trail soon turned treacherous, infested with roots
and clinging perilously to steep hillsides with guide ropes in many places. Normally, low-top hiking
shoes sufficed; but this path called for sturdier footwear, like perhaps some leather Alpine boots?
Sorry, no photos from the dangerous sections, as we were too busy concentrating on our footing.
In spots, we were able to peek through the trees back down the mountain toward Zermatt.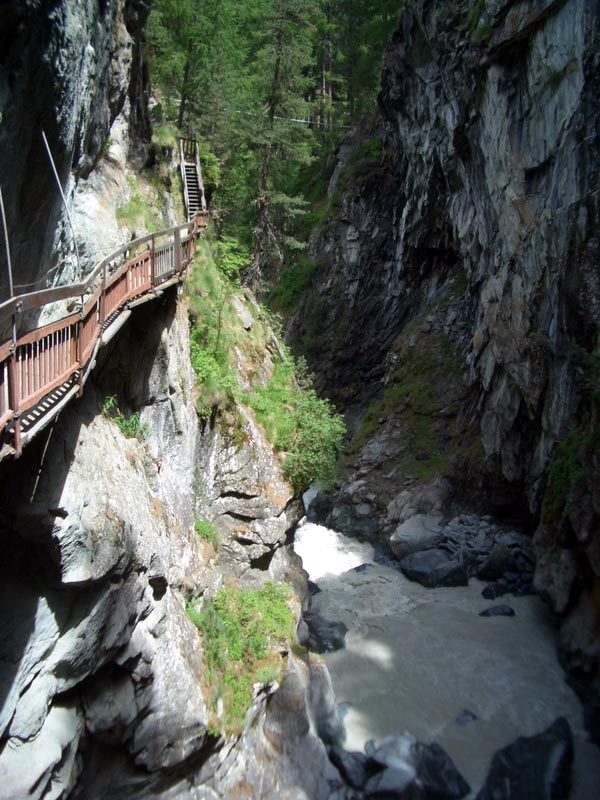 Miraculously, the path we stumbled upon eventually led us to the Goner Gorge. The khaki colored
water attests to the amount of silt carried downstream. Deep within the gorge, constant pounding
of river against rock raises a fine mist that settles on the stone walls high above and slowly dries
under direct sunlight. Walking the length of this wooden bridge, I traced a fingertip along the wall,
and a fine coat of light brown powder adhered to my skin. Was I breathing that stuff in my lungs?
This perspective provides a glimpse into the depth and grandeur of the gorge. Irmi marveled at the
daring and skill of the men who built the walkway. Indeed, someone had to be the first to travel this
route. Even today, with the convenience of a prepared path, it is not a place for the faint of heart.
Having, with luck, achieved our goal of visiting the Goner Gorge, we headed back down
the mountain . . . and discovered this beautiful meadow. Beyond the small building in the
background, a smooth easy path down a long gentle slope led to the Zermatt city center.
We arrived back in Zermatt in time to shop for another two hours before the stores closed at six p.m. At the hotel,
we freshened up and shared a quiet dinner in a cozy corner of a small rustic restaurant in the "Old Zermatt" section
of town. Following that, we strolled around the city for an hour and a half. It remains light until well past 9:30 at this
time of year, so Irmi led the way up a steep road to a spot with a commanding view of the city, and we watched the
sun sink quickly behind the mountains. Soon, the moon appeared, and, well, we began smooching. Hand-in-hand,
we strolled slowly back to the hotel and collapsed in bed, pulling the feather "Bettdecke" up to our chins, and slept.
Wednesday morning, after a leisure breakfast, we rode this cog-wheel train up to the Goner Summit.
From the valley floor, at 1,620 meters ( 5,265 feet), the train climbs to an elevation of 3,089 meters
(10,039 feet), an increase of 1,469 meters (4,774 feet), bringing us to a point far above the tree line.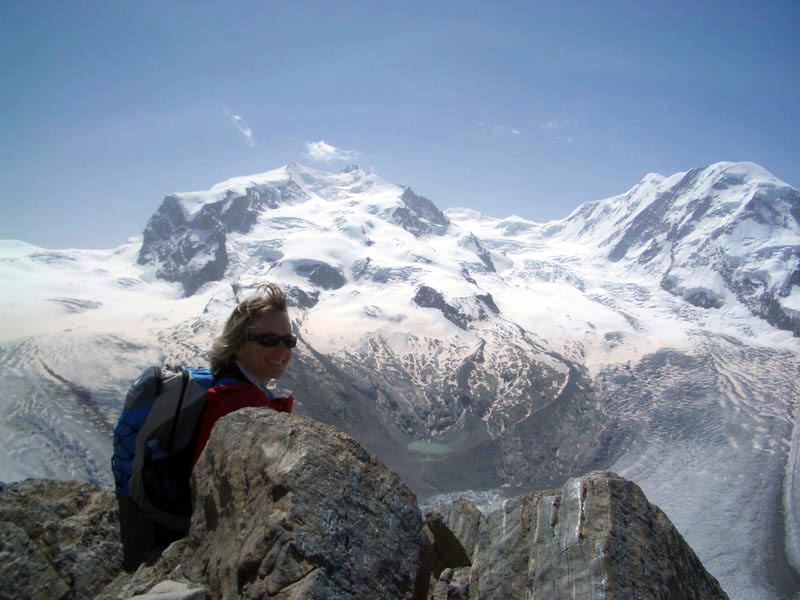 Irmi, sitting on a pile of rocks above the top gondola station and restaurant, about as high as a tourist can get on
the Goner Summit. In the background, the Goner Glacier (left) is joined by the Grenz Glacier (right). Below this
point, the combined glacier is called the Goner. Down on the valley floor, the temperature had been 29 degrees
Celsius (85 Fahrenheit); up at the top, it was dramatically cooler at 11 Celsius (52 Fahrenheit) with strong winds;
a refreshing change, to be sure, but definitely requiring Gortex jackets for the hour or so that we spent at the top.
Another view of the Goner and Grenz glaciers from atop the Goner Summit.
(That small lake is reflected on a commercial map, so it must be a permanent fixture.)
At the summit, we re-boarded the cog-wheel train and rode it back down to the Riffelsberg station
(2,582 meters/8,391 feet) where we disembarked for a planned hike along marked trails leading
first to "Glacier Garden," then on to Riffelalp (2,211 meters/7,186 feet). Riffelsberg and Riffelalp
are both marked on the previous map (above) with red arrows. At Riffelalp, we would once again
board the cog-wheel train and ride it back down to Zermatt. Yes, that is the Matterhorn, again.
Every time we turned around, there it was. Irmi would like to bring her yoga group to this meadow.
Ron, looking lost, waiting for a policeman to happen along and give him directions.
In spite of this sign post, trails were not well marked. One required a good map!
Irmi takes a short break beside the trail, eating an apple, contemplating the magnificence of old Mother Matterhorn.
Ron forges ahead, unaware that Irmi has stopped (yet again) to photograph flowers.
Such widely varying and delicate beauty existing so far above the tree line absolutely boggles the mind.
Having descended below the tree line once again, we now follow blue trail number 18 (see map above), clearly
marked as "Mark Twain Weg," causing me to wonder if Twain might have trekked this way during one of his visits
to Europe, perhaps while chronicling observations for his celebrated book, "The Innocents Abroad." Just beyond
the bend ahead, the trail became quite steep and rocky, and we lost our way again, due to a lack of signs, and
were forced to walk parallel to a railroad bed for half a kilometer before finally arriving at the Riffelalp station.
We arrived back in Zermatt around three in the afternoon and called our hotel from the train station. Twenty minutes
later, a bell hop arrived in a small electric van with our suitcases (as well as a large shopping bag filled to capacity),
and we boarded a train for Visp. Little more than an hour later, we arrived in Visp and transferred to a train headed
for Bern. In Bern, we boarded a direct express for Zurich, arriving home in Thalwil shortly before 8:00 that evening.