Our starting point at a small riverfront restaurant near the village of Ellikon.
Having crossed the river to the German side, we exit a small ferry boat and ask for directions.
Stepping off the river ferry, we cross the border into Germany.
(The sign says to ring the bell hard for ferry service between 12:00 and 12:45 -- lunchtime.)
Stacked firewood in a German forest; common on the German side but not on the Swiss side.
Looking across the river toward Switzerland from the German side.
One of several wooden ladder paths we had to carry our bikes up.
One of the easier stretches on the German side of the river.
Entering Rheinau, a structure with two conflicting architectures. Which part is older?.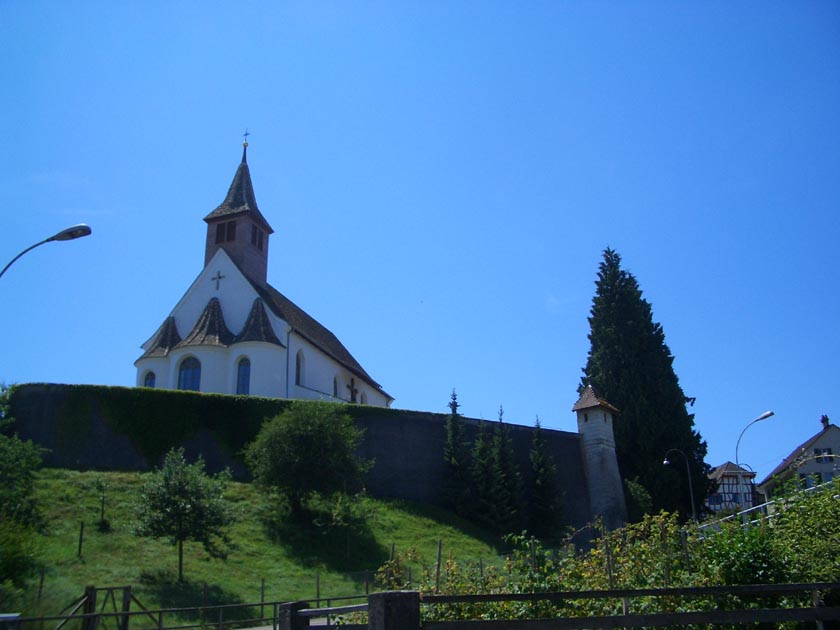 In Rheinau, a church built behind a portion of the old city wall, surrounded by the town cemetery.
An interesting architectural style. Did someone run out of money?
An ancient doorway of a building constructed in 1551.
(Thirteen years before William Shakespeare was born)
Still in Rheinau, and still another church.
Interesting low concrete retainer wall along this stretch of river outside Rheinau.
We pedaled down the road to the left, across the bridge, and back into Switzerland. On the
Swiss side, the terrain flattened, and progress came easier; but the heat remained intense.
Children, under adult supervision, jumping from the bridge into the river and swimming to shore.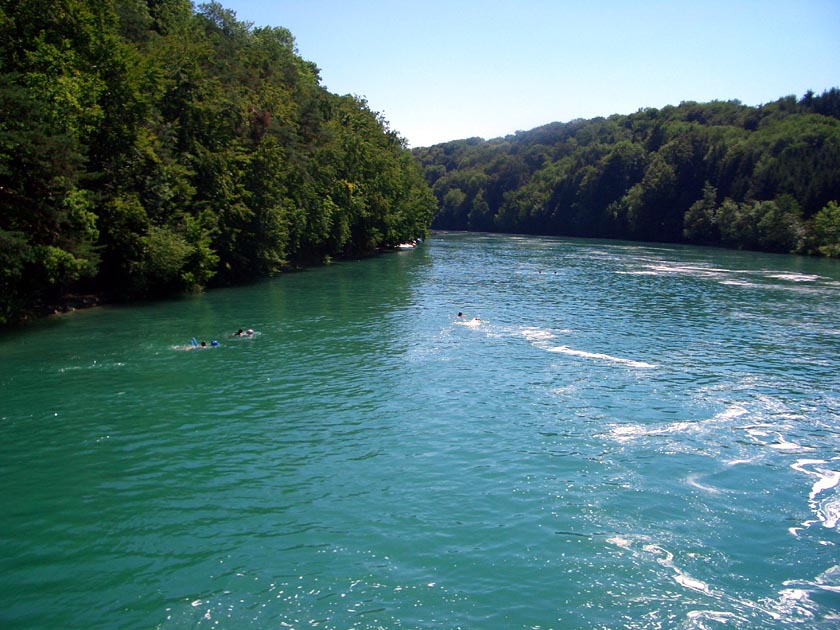 People, many with their dogs, floating with the current downstream for several miles.
We have finally reached our destination: the Rhine Falls.
This is the lower section. See the observation platform?
The water here is crystal clear, and the abundant fish are easy to see near the surface.
This is a small garden restaurant where we ate lunch. The falls are directly behind and below.
The Rhine, having exited Lake Constance a few miles upstream, foams through the upper falls.
The island in the middle of the river belongs to Switzerland. See the Swiss flag at the arrow?
The building in the center is a restaurant. Last year (2011), Irmi and I ate there with relatives,
and the nighttime view of the falls, illuminated by rotating colored lights, was quite impressive.