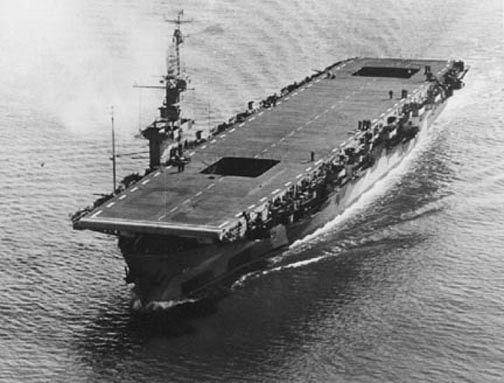 USS Wake Island (CVE-65)
Technical Data: Built by the Kaiser Shipbuilding Company of Vancouver, Washington, the escort carrier USS Wake Island was
commissioned on November 7, 1943. It had a length of 512 feet, three inches; a beam of 65 feet; entire width of 108 feet, one inch;
a draft of 22 feet, six inches; and a displacement of 7,800 tons. Reciprocating engines provided a top speed of 19 knots. She held
a compliment of 860 crew and 28 aircraft.
Service in World War II: Under the command of Captain Hames R. Tague, the Wake Island steamed through the Panama Canal
in January, 1944 and made port in Norfolk, Virginia, and New York before embarking on a voyage to Karachi, India. Upon returning,
the ship underwent alterations and overhaul in Norfolk before setting off June 15, 1944 for waters off Bermuda where she served as
nucleus of Task Group 22.6, a combined air-and-surface, anti-submarine hunter-killer expedition. On that cruise, one of the ship's
planes, an Avenger, intercepted and sank the German submarine U-543 off the coast of Africa. On August 4, Task Group 22.6 was
dissolved, and the Wake Island returned to Norfolk for repairs and alterations before moving on to Quonset, Rhode Island, where it
served on carrier aircraft qualification duty from late August through the end of October. On November 11, the USS Wake Island
returned to the west coast, via the Panama Canal, and continued on to Pearl Harbor, Hawaii, arriving on December 5, 1944. After
taking on passengers and supplies, the Wake Island sailed for Manus in the Admiralty Islands where it discharged all passengers
and cargo and moved to join the huge fleet assembling for the invasion of Luzon. For most of January, February, and March, 1945,
the Wake Island participated in combat operations at Panay Gulf, Leyte Gulf, and Lingayen Gulf, in the Philippine Islands, as well
well as Iwo Jima in the Volcano Islands. Perhaps the highest praise of her performance came from Rear Admiral Clifton Sprague
who sent to the following message to the commanding officer of the Wake Island: "If your ship is as good as your air department
and squadron, it is a standout. I have seen nearly all of the combat CVE's work, and, I must say, the 'Wake' tops them all for
efficiency, smoothness, and good judgment. I hope we are together again." Charley Plummer disembarked the Wake Island on
March 18, 1945, and boarded the USS Admiral Coontz for transport to San Francisco and a well-deserved and long overdue shore
assignment. The USS Wake Island continued to see combat service in the Pacific, earning three battle stars before returning to
San Diego, California, on July 25, 1945, for training duty; but before her illustrious career ended, one more distinction awaited the
Wake Island. On November 5, 1945, the first ever jet-propelled landing on an aircraft carrier took place on her flight deck during
testing of the FR-1s "Fireball." The Wake Island was de-commissioned April 5, 1946 and struck from the Navy list April 17, 1946.
Charley Plummer's Story: The narrative above covers most major operations involving the USS Wake Island. To share a sailor's
view of combat, click here and read Chief Quartermaster Charley Plummer's own words describing daily activities of January 1945
through March 1945, transcribed from a pocket diary he kept during his years at sea.
Ship's Itinerary (from Charley Madison Plummer's diary): click here.
Sources: Dictionary of American Naval Fighting Ships; wartime diary of Chief Quartermaster Charley M. Plummer, U.S. Navy (1920-50).