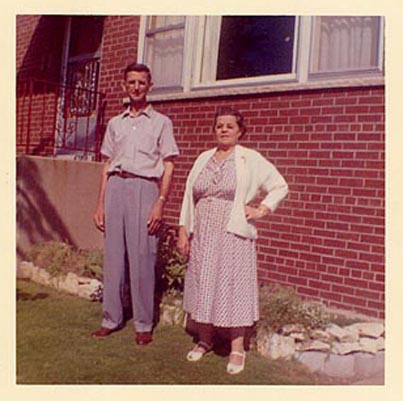 The House that Jan and Angeline Built
2819 Melvina Avenue, Chicago, Illinois (1959)
Left: Jan (John) Karpinski (1894-1972)
Right: Angeline (Glowiak) Karpinski (1892-1982)
A relative snapped this shot in the summer of 1959 during a visit from son Edward and family. The house, built in 1915, included
exterior walls of distressed (used) bricks and a large traditional open wooden porch out front; however, in the late 1950's, Jan and
Angeline had the front extended and enclosed. Unfortunately, at the time of the renovation, the original style brick was no longer
available and could not be matched, so new red bricks were employed, resulting in an unusual, if not unique, patchwork design.
Following Angeline's death in 1982 (age 90), an unidentified man bought the house and lived in it for ten years. By September of
2000, the third owners, the Martinez family, had lived there eight years and had renovated the interior, but the exterior remained
nearly identical to a 1959 photo. In conversation, Mrs. Martinez recalled seeing Jan Karpinski's name on the building blueprints.
By September 2000, the neighborhood had undergone a transformation; no longer exclusively a Polish enclave, it now boasted
wide ethnic diversity, impressive with its clean sidewalks, tidy yards, and neatly trimmed lawns -- a proud corner of the big city.